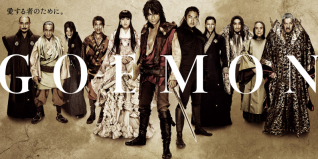 According to Wikipedia:
Ishikawa Goemon (石川 五衛門 or 石川 五右衛門?, 1558-1594) was a legendary bandit hero who stole gold and valuables and gave them to the poor. He is notable for being boiled alive after a failed assassination attempt on Toyotomi Hideyoshi. A large iron kettle-shaped bathtub is now called a Goemon-buro ("Goemon bath").
This movie is loosely, loosely based on that story--to begin with, this Goemon doesn't get boiled alive, although he does try to assassinate Toyotomi Hideyoshi.
This movie has almost nothing to do with actual history. If you mentioned research to the writers, I'm sure they would have blinked at you as if you were a madwoman.
If I had to describe their approach, it would be something like: "Take one part fantasy Japan, one part video game cut scenes, and one part visual kei. Stir well. Season with popular storytelling tropes such as tragic orphans, maniacally evil rulers, and star-crossed relationships." But that almost makes sense, while the actual movie raises an endless series of questions of "why did they do that?"
(The usual answer must be because it looked cool. This is why Oda Nobunaga wears European plate armor and why the McGuffin that Goemon accidentally steals is decorated in Egyptian hieroglyphs and is called Pandora's box.)
Much of the storyline is revealed through flashbacks, making it even more confusing. By the time that I had finally pieced it together (note: that did not mean it made sense), it had turned rather dark, in that tragic now-it's-suicide-revenge-fantasy way, and the main female character had become even more pointlessly helpless.
Final verdict: Quite silly. There's no point to watching unless you like the style of pretty, or are a fan of action scenes that are set in a world with video-game physics.
Music Time!
Fly, Fly My Sadness
- Angelite and Huun-Huur-Tu
Angelite is an offshoot of the famous Le Mystère des Voix Bulgares, a Bulgarian women's choir. Huun-Huur-Tu is a renowned Tuvan folk group. Combine the two and you get something gorgeously haunting and perfect for a cold, lonely day outside.